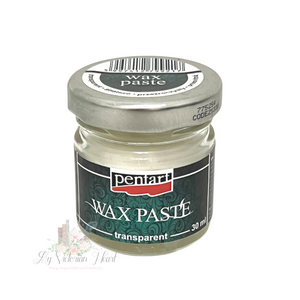 Pentart Wax Paste, Transparent 
Size: 30 milliliters = 1.01 ounces
Pentart Transparent Wax Paste is a versatile beeswax-based with orange oil which protects surfaces and can be used as a carrier for adhering Pentart Rub-on Chrome and Chameleon Effect Pigment Powders. 
How to apply:
Apply by rubbing on with your finger or with a soft cloth. 
After applying Transparent Wax to a painted or unpainted wood, let dry then buff to desired shine. 
Use Transparent Wax Paste with Pentart Rub On Chrome Effect Pigment Powders, available here or with Chameleon Effect Pigment Powders, available here. Transparent Wax Paste acts as a carrier to adhere your pigment powders to your project surface, such as plastic, wood, papier mache.  
Uses and Project Ideas:
Stencil a design onto bare wood with Transparent Wax Paste, remove stencil, let Wax Paste dry, then apply a gel stain or antiquing gel or paste for color and contrast in your stenciled design. The Transparent Wax part of your stenciled design will have a wax resist effect and create a contrasting design with your gel stain or antiquing paste.
Create stripes by taping off sections of a wooden project and rub on Transparent Wax Paste to create contrasting stripes. 
Transparent Wax will protect wood and is waterproof after drying for 24 hours.
Watch Pentart's short, helpful video below for projects and tips. 
Always read all cautionary statements on this product and all art mediums. Follow safety guidelines for proper, safe use. Keep away from children and pets.  
Always thoughtfully packaged. 
Thank you for choosing My Victorian Heart