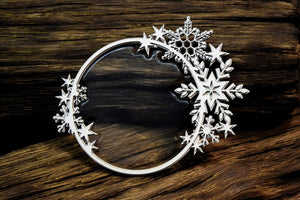 SnipArt Frosty Moments Shaker Box, Circle with Snowflakes
29307
A beautiful round shaker frame with a clear plastic cover and 2 layers of frames. This would make a festive snow globe or enchanting winter art project. Great for adding mediums like glitter, charms, mica flakes and more for a shaker effect. Add art images, rice paper, dry florals, charms, lace, textiles to your shaker frame for a beautiful mixed media project. 

Material: Chipboard, 1,5 mm thickness

 Measures: 5.75" x 4"