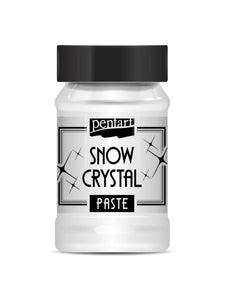 Pentart Snow Crystal Paste, 100 mL (milliliters) = 3.38 ounces
Pentart Snow Crystal Paste is a water-based, structured, textured white paste with a subtle glitter to create the sparkle of fresh, crisp snow. Combine with Pentart Snow Paste for a beautiful, sparkling snowy landscape. Suitable for most surfaces, including glass.  Snow Paste contains natural minerals inherent to this product which are the dark bits dispersed throughout.
How to apply:
Apply with a palette knife, or favorite implement, and spread onto project surface.
Use to create sparkling, snowy effect of snow on landscapes inside and on ornaments, papier mache, decoupage projects, Christmas villages, miniatures and more. 
Keep tightly closed. Store out of heat, light and protect from freezing weather.
Protect from frost. 

Read any and all cautionary statements on all art mediums. Follow safety guidelines for proper, safe use. Keep away from children and pets. 
Always thoughtfully packaged.
Thank you for choosing My Victorian Heart.