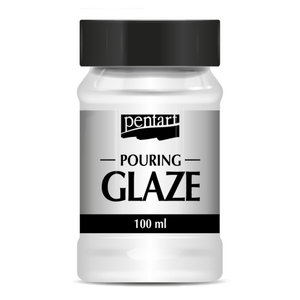 Pentart Pouring Glaze
100 mL (milliliters) = 3.381 ounces

Pentart Pouring Glaze is a water-based, heavy body glaze that provides a clear, high-gloss or glassy, resistant coating. Pouring Glaze may also be brushed onto ceramics, wood, and more. Pours on smoothly and easily. 
How to apply:
Pour Glaze onto project that is placed on a stable, flat surface to achieve an even coating of glaze. For example, a serving tray, a box, or ceramic plate. 
Pouring Glaze can also be brushed onto ceramics, embellishments or other projects. 
Do a second pour for a smoother, glassier, resistant coating. 
While your Pouring Glaze dries, keep project stable and laid flat, if you poured glaze onto a project, like a tray or plate, so the glaze doesn't dry unevenly. 
Be sure to watch the short, helpful video below for great project ideas and how to apply Pouring Glaze.
Always read all cautionary statements on all art mediums. Follow safety guidelines for proper, safe use. Keep away from children and pets. 
Protect from frost.
Always thoughtfully packaged.
Thank you for choosing My Victorian Heart.