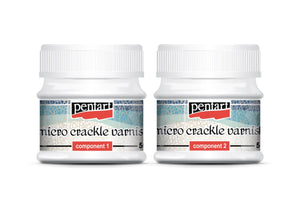 Pentart Micro Crackle Varnish, 2 components, 50 ml set
Component 1 - 50 mL (milliliters) = 1.69 ounces
Component 2 - 50 mL (milliliters) = 1.69 ounces
Pentart Micro Crackle Varnish is a water-based, two-component cracking system which creates a glossy, transparent, 3D cracked appearance on your projects. The thickness of application of product and direction of your brushstrokes will determine the pattern of your crackles.  Components 1 and 2 in this set of Micro Crackle Varnish are both 50 mL each. 
How to apply: 
Use a soft, dry brush to apply.
Apply component 1 in an even layer and let it dry completely to transparent.
Brush component 2 on top of dried component 1. Allow to dry completely to transparent.
Both components dry clear/transparent.
Crackles should appear on your project.
The depth and the network or appearance of the cracks depends upon the thickness of the layer and on the technique of the application.
Rub on Antique Pastes or Wax Pastes to highlight the crackles.
You can also mix color Pentart Transparent Color Pigments into Component 2 of Micro Crackle and mix/stir then pour onto your project for color micro crackles.
TIP: You can stencil designs on projects with Micro Crackle Varnish. Apply Component 1 first, let dry, then place stencil on project and stencil on Component 2, let dry. 

See the official Pentart video below for application how-to's and project inspiration. 
Protect from frost.
 Always read all cautionary statements on all art mediums. Follow safety guidelines for proper, safe use. Keep away from children and pets. 
Always thoughtfully packaged.
Thank you for choosing My Victorian Heart.