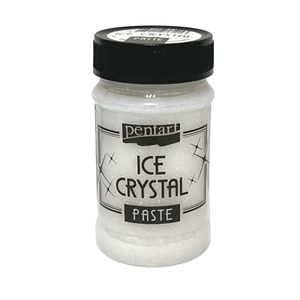 Pentart Ice Crystal Paste 
100 mL (milliliters) = 3.381 ounces
Pentart Ice Crystal Paste is a water-based paste that adds gorgeous, glistening sparkle to your creative projects. Adds icy, frosty sparkle with a crystal-style glitter. Very pretty medium that looks very much like true icy frost when applied. 
How to apply:
Apply with a palette knife, sponge on or brush onto projects. 
Uses/Ideas: 
Use Ice Crystal Paste with stencils to stencil on designs.
Sponge onto ornaments, baubles, glass or other projects for a frosty winter look.
Dab or sponge onto decoupage projects. 
See the following quick, helpful Pentart video for how to use Ice Crystal Paste and for project inspiration.
Always read all cautionary statements on all art mediums. Follow safety guidelines for proper, safe use. Keep away from children and pets. 
Protect from frost.
Always thoughtfully packaged.
Thank you for choosing My Victorian Heart.