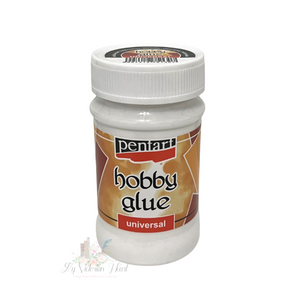 Pentart Hobby Glue, Universal
100 mL (milliliters) = 3.381 ounces
Pentart's Hobby Glue, Universal is a water-based, strong bonding glue for general gluing purposes such as paper, wood, textile and felt materials. 
Protect from frost. 

Read any and all cautionary statements on all art mediums. Follow safety guidelines for proper, safe use. Keep away from children and pets. 
Always thoughtfully packaged.
Thank you for choosing My Victorian Heart.