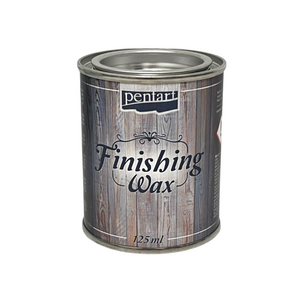 Pentart Finishing Wax
Color: Transparent
125 mL (milliliters) = 4.23 ounces
Pentart Finishing Wax is a creamy wax paste which can be applied to natural or painted wood project surfaces. This wax is the transparent or clear wax. Packaged in a metal tin with 4.23 ounces of wax. Tin measures: 2.75" tall x 2.25" wide.
How to apply:
Using a soft cloth, rub Finishing Wax onto your project surface, making circular movements in a thin layer.
Wipe away excess wax. Let dry completely
After completely dry, using a soft cloth, buff or polish wax. Can be buffed to a shine.
Finishing Wax may also be used in resist art. For example: apply with a stencil then add color waxes or pastes for contrast.
Note, surfaces will not resist scratching and will not provide a complete waterproof layer. 
Always read all cautionary statements on all art mediums. Follow safety guidelines for proper, safe use. Keep away from children and pets. 
Always thoughtfully packaged.

Thank you for choosing My Victorian Heart.