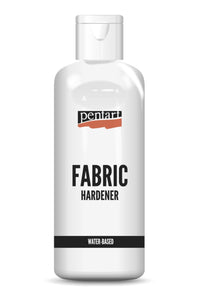 Pentart Fabric Hardener Sculpting Medium
Size: 100 milliliters = 3.38 ounces
Pentart Fabric Hardener Sculpting Medium is a water-based product that stiffens or hardens fabrics such as natural cotton, silk and wool. 
How to use Pentart Fabric Hardener Sculpting Medium:
Saturate fabric completely with Fabric Hardener. 
Shape or arrange your fabric into desired shape.
Drape treated fabric over wire forms for sculpture or papier mache. 
Fabric can be shaped and applied/adhered to project surfaces such as canvas, wood and more.
Once you have your fabric shaped, allow to dry for 24 hours. 
Fabric can be painted after drying. Note, fabric will soften a bit after painting so allow fabric to dry again.
You can decorate hardened fabric with Pentart Wax Paste Metallics, Glitter Pens, Metal Flakes, Glitter and more. 
Ideas: cut fabric into flower petal shapes, leaves to make formed, dimensional flowers--or make other shapes, etc.
See the official Pentart how-to video on Fabric Hardener Sculpting Medium below.
 Always thoughtfully packaged. 

Thank you for choosing My Victorian Heart