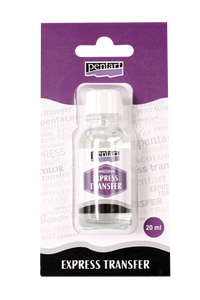 Pentart Express Transfer Solution, 20 mL (milliliters) = 0.676 ounces
This is a fabulous solvent-based solution which allows transfer of laser printed images to smooth, porous surfaces.
How to apply:
Just place your printed image facing down. You will need to reverse or mirror your images that have text.

Dip a cotton swab or other implement into the solution and gently soak the image from the 

back side. 

 

Thoroughly rub the entire image with slight pressure using a wooden spatula or a back of a metal spoon.

Then remove your 

paper and seal your image by applying a layer of varnish or by ironing on fabrics.

In case of fabrics, use a layer of Fabric 

Medium on top, then set with ironing (cotton grade, 30 sec, and inside-out).
Watch the official Pentart YouTube Video for how to use you Express Transfer Solution here. 
Read any and all cautionary statements on all art mediums. Follow safety guidelines for proper, safe use. Keep away from children and pets. 

Always thoughtfully packaged.
Thank you for choosing My Victorian Heart.