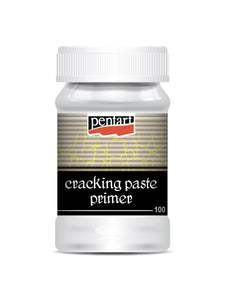 Pentart 3D Cracking Paste Primer
Size Options: 
100 mL (milliliters) = 3.38 ounces
Water-based, two-component cracking system to create 3D cracked surfaces. Apply the Cracking Paste Primer in an even layer and let it dry completely. Then spread the Cracking Paste on top. The depth and the network of the cracks depends on the thickness of the layer and on the technique of the application. Please note that the term "3D" is not noted on the label of this Cracking Paste Primer. This primer is the same as the Pentart Universal Cracking Primer, but somewhat thicker. Both cracking primers do the same thing.
How to apply: 
Brush onto surface with soft brush.
Allow to dry. Dries transparent.
Apply your Cracking Paste. 
See the following Pentart video for application how-to and project inspiration. 
Protect from frost.
Always read all cautionary statements on all art mediums. Follow safety guidelines for proper, safe use. Keep away from children and pets. 
Always thoughtfully packaged.
Thank you for choosing My Victorian Heart.