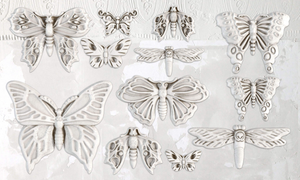 Iron Orchid Designs "Monarch" Decor Moulds for DIY, Crafts, Furniture, Art Projects

A kaleidoscope of beautiful butterflies take flight in the Monarch butterflies beautiful mould! 
Monarch Decor Moulds measure: 10" x 6".
If you have questions about IOD products please feel free to chat with us via the blue chat button located in the lower right corner of any of our website pages or send us a message via the Contact Form. We are glad to help! 
Thank you for choosing My Victorian Heart