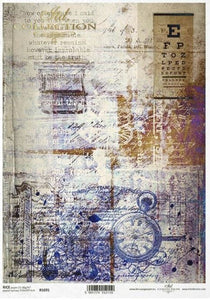 ITD Collection "Industrial" Rice Paper 
Size A4 - 210x297 mm / 8.27x11.7 inch 
Collage of vintage text, script, typography, antique typewriter, pocket watch, old eyechart on an aged background with beautiful color and inspirational text which reads: "How often have I said to you that when you have eliminated the impossible, whatever remains, however improbable, must be the truth." Author not stated.
Please note: ITD Collection A4 papers are slightly smaller than our other brands of A4 size papers.
Always thoughtfully packaged in protective packaging. 
Thank you for choosing My Victorian Heart