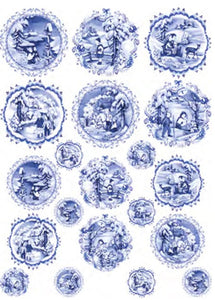 "Blue Vintage Round Winter Scenes" TCR 202 Decoupage Rice Paper by Calambour Italy 
Size A3 - 12.5" x 18" 

Please note: Calambour Italy's paper size dimensions vary slightly from other decoupage paper lines we carry. Dimensions are provided for your reference. 
Calambour is a premier decoupage company based in Milan, Italy. This mother and daughter duo create beautiful designs and print on very high-quality rice paper. We are proud to offer their papers in our lineup.
Thank you for choosing My Victorian Heart