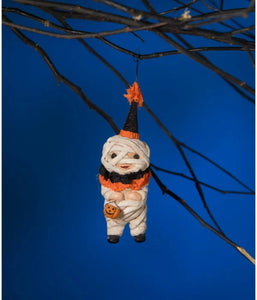 Bethany Lowe Designs, Time to Unwind Mummy Ornament, MA0416
by artist Michelle Allen of Raggedy Pants Designs
This darling little mummy ornament is ready to unwind after a hauntingly long night of Halloween. Created by talented artist Michelle Allen of Raggedy Pants Designs for Bethany Lowe Designs. Perfect for your Halloween tree or decor.
Materials: Hand-painted resin, glitter, and crepe paper. Artisan crafted and painted.
Measures: 4.75" X 1.5" X 1.5"
Always thoughtfully packaged. 
NOT FOR SMALL CHILDREN.
Thank you for choosing My Victorian Heart