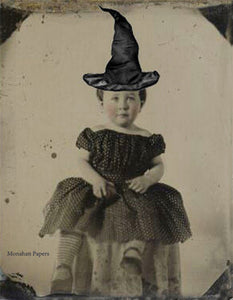 Bathilda Boo by Monahan Papers, 8 x 10, H6
This is a reproduction of an antique photo with a very old, antiqued appearance and without perfect clarity.  
Monahan Papers are printed on quality French-milled paper. Aged, vintage appearance. This paper is perfect for crafts, holiday decor, wall art, die cutting, decoupage, scrapbooks, journals and more. 
Measures 8" x 10" 
Made in the USA. 
Thank you for choosing My Victorian Heart