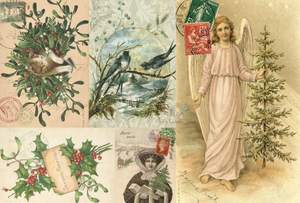 "Christmas Projects B" Decoupage Paper by Roycycled Treasures
Size: 20" x 30" 
Christmas Projects B evokes the magic of a Victorian Christmas. Curated from Victorian images and postcards, our first love at My Victorian Heart. This design has it all.
Designs include: 
a darling Victorian Angel with a Christmas tree
a Victorian woman bearing gifts
winter birds
a kitten in a nest of mistletoe
and beautiful boughs of holly.
Roycycled Decoupage Papers are scaled for large projects such as furniture but are great for other creative projects, too. These are quality, 18 lb. decoupage papers that meld into your projects. If you have used decoupage napkins before you will love this paper. Amazing color and graphics, Roycycled Decoupage Papers work with any decoupage medium or glue. You can apply these papers to wood, metal, glass, marble...you can make so many beautiful things with Roycycled Papers.

Each Roycycled Paper measures: 20" x 30"
My Victorian Heart is an authorized Roycycled Treasures retailer. 
Thank you for choosing My Victorian Heart