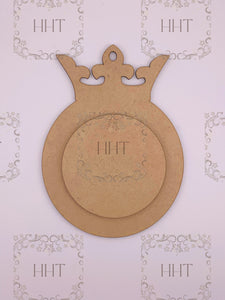 Handcrafted Holiday Traditions MDF Ornament Blank, Orn-0006
Ornament 0006 is a two-piece ornament blank with a lovely crown shape at the top with a hole for stringing ribbon. This blank, or base, makes the prettiest ornament. Handcrafted Holiday Traditions MDF Bases and Ornaments are a dream to create with for decoupage and all manner of crafting. Paint, decoupage and embellish with castings from moulds, trims and other embellishments or mixed media. 
Measures:
6.50" long x 5" wide x 1/8" (or 3.175mm) thick
Smaller round piece measures: 3.50" x 3.50" x 1/8" (or 3.175mm) thick

What is MDF (medium density fiberboard)? 

Medium-density fiberboard, or MDF, is an engineered wood product made with broken down hardwood or softwood pieces made into wood fibers. These fibers are combined with wax and resin to bind it and form it into panels which are compressed at high temperature and pressure. It is made up of separated fibers and is commonly used in building materials similar to plywood. MDF is denser and sturdier than particle board and can be denser than plywood.