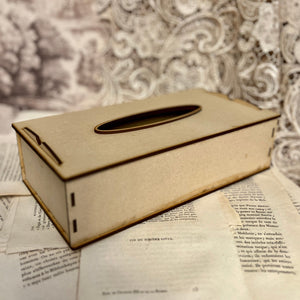 Decoupage Queen Life Beautiful HDF Rectangular Tissue Box
Super cute self assembly rectangular tissue box, manufactured in USA by our partner, Life Beautiful Designs. In this package is a Approx 3 mm thickness kit. Do not glue the top of the box shut, leave unglued so you can place tissues inside. We recommend using Pentart Express glue to assemble our kits.
About HDF (High Density Fiberboard)
- HDF is made of wood composite/fibers material which is mixed with resin and compressed at high pressure with heat rendering a very hard, durable product. HDF is used in crafts, cabinetry, furniture, laminated flooring and molding. HDF is somewhat moisture resistant
(NOT waterproof)
due to the density of the pressed fibers, so it is less prone to warping like natural wood. Durable HDF provides a good surface for applying decoupage glues, craft glues, pastes and other wet mediums. 
Thank you for choosing My Victorian Heart for your creative joy.