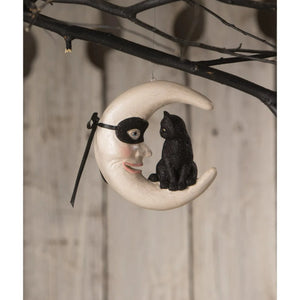 Hallow's Eve Cat on Moon Ornament, TD0051
A darling black glittered cat is perched upon his luminous crescent moon friend. The moon has a painted pearl finish and a sweet face with a glittered black mask tied on in black ribbon. 
Beautiful, highly collectible, holiday decor that is sure to be treasured for years to come. Bethany Lowe Designs creates vintage-inspired, artisan crafted holiday decor perfect for your home.
Materials: Hand-painted resin and glitter.
Measures: 4.5" X 4.5" X 1.5"
NOT FOR SMALL CHILDREN. DECORATIVE USE ONLY.
Thank you for choosing My Victorian Heart