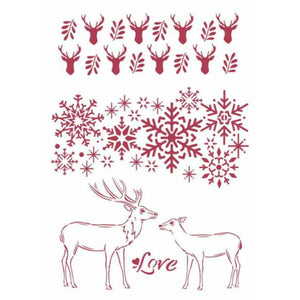 Love, Winter Tales Stencil by Stamperia - 8.27" x 11.69"
Beautiful snowflakes and deer designs for your winter creative projects.
Stencils can add fun accents or elegant designs to home decor projects, furniture, papier mache, decoupage, scrapbook pages, greeting cards, mixed media and craft projects! They can be used with inks, mists, paints, texture pastes and other similar applications.
Always thoughtfully packaged. 
Thank you for choosing My Victorian Heart for your creative joy.