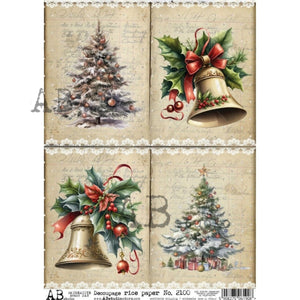 Holiday Trees and Bells Rice Paper 2100 by ABstudio, A4
Holiday Trees and Bells - Four (4) designs on one sheet of rice paper.
ABstudio rice papers are quality made and create by a family-owned business in Poland. Beautiful, original designs decoupage papers and more. 
ABstudio Rice Paper designs are on 28 gsm (grams per square meter) papers.
Thank you for choosing My Victorian Heart for your creative joy.