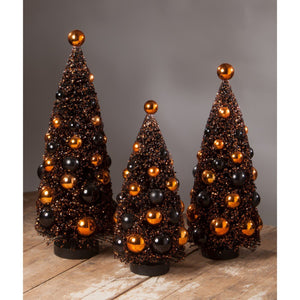 Bethany Lowe Designs, Magic Halloween Glitter Bottle Brush Trees, Set of 3, LC8038
The magic of Halloween sparkles in this set of three generously sized bottle brush trees. Decorated with orange and black mercury oranments on black bottle brush trees with orange glitter and black wooden bases.
Beautiful, whimsical, highly collectible holiday decor that is sure to be treasured for years to come. Pretty displayed in a Halloween vignette on a table or sideboard. 

Bethany Lowe Designs creates vintage inspired, artisan crafted holiday decor perfect for your home.
Materials: Bottle brush, ornaments, wood, glitter. NOTE: Some glitter does shed from these trees.
Measures: Large: 13" tall; Medium: 11" tall Small: 9.50" tall
Bethany Lowe #LC8038 

My Victorian Heart is an authorized Bethany Lowe Designs Retailer.
Always thoughtfully packaged. 
Shipping is complementary with orders of $75+ to USA destinations via UPS Ground with Tracking. We ship in 1 business day if orders received by early afternoon or ship next business day. 

Thank you for choosing My Victorian Heart