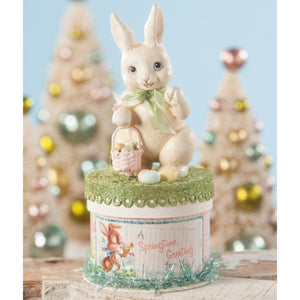 Retro Bunny on Box by beloved Bethany Lowe Designs, Vintage Inspired Holiday, Spring Easter Gifts & Decor 
We love Bethany Lowe's adorable Retro Bunny! He has the sweetest face. Bunny has an Easter basket full of eggs as he sits atop his Spring box adorned for Spring with a cheerful "A Springtime Greeting for You". All in sweet pastel colors.  A vintage keepsake sure to be treasured for years to come.

Bethany Lowe Designs creates these unique decor boxes for every holiday. These are our favorite items from Bethany Lowe. These are perfect in your Spring/Easter vignettes, on a table top, or tucked in Easter baskets with little confections inside. 
Bethany Lowe #TL8703 - Bethany Lowe Designs creates vintage inspired, artisan crafted holiday decor perfect for your home!
Materials: Pressed paper, glitter, tinsel, paper, tinsel grass, ribbon, resin and woven basket.
Each character measures 8.75" x 4.25"

My Victorian Heart is an authorized Bethany Lowe Designs Retailer. 
$4.95 Flat Rate Shipping*. Spend $75+ and your order ships Free*. **To USA. We ship in 1 business day if orders in by 12 noon EST or ship next day.

Thank you for choosing My Victorian Heart