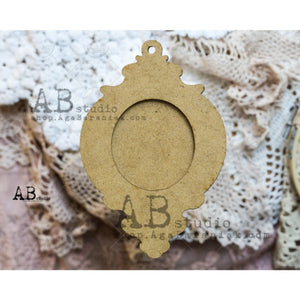 ABstudio HDF Decoupage Base Ornament 0037, Ornate Blank
High Density Fiberboard Blank - 2 pieces 
HDF Decoupage Base Ornament No. 0037 - HDF plaque style blanks are perfect for decoupage and all manner of crafting through all seasons. Durable, sturdy and perfect for application of decoupage mediums or other art projects. 
There are two pieces of HDF in this design.
One piece is the ornate front frame piece.
The other piece is the back side base that can be adhered to the front frame piece.
We recommend Pentart Heavy Body Gel or Express Glue for adhering your HDF.
Measures:
Back side base piece = 5.75" long x 3.75" wide (14.61cm x 9.53cm)
Front Frame piece = 5.75" long x 3.75" wide

(14.61cm x 9.53cm)
About HDF (High Density Fiberboard) - HDF is made of wood composite/fibers material which is mixed with resin and compressed at high pressure with heat rendering a very hard, durable product. HDF is used in crafts, cabinetry, furniture, laminated flooring and molding. HDF is somewhat moisture resistant (NOT waterproof) due to the density of the pressed fibers, so it is less prone to warping like natural wood. Durable HDF provides a good surface for applying decoupage glues, craft glues, pastes and other wet mediums. 
Thank you for choosing My Victorian Heart for your creative joy.