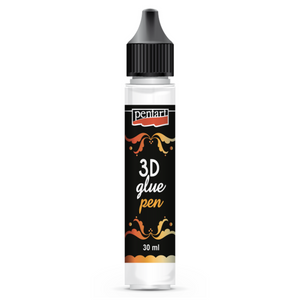 Pentart 3D Glue Pen, 30 mL (milliliters) = 1.01 ounces
Pentart 3D Glue Pen is a water-based, thick, self-adhesive glue. It keeps its shape to create 3D patterns for applying Pentart Decor Foils, available here. You can draw patterns with the 3D Glue Pen, and also use it with stencils. 
How to apply:
Draw on your design or stencil in a design with the 3D Glue Pen. It has a long, narrow tip for controlled application while the tube is squeezable to help dispense glue as you go along. 
Preparation and use: 

Clean project surface to remove oils and residue prior to application.

Apply the 3D Glue. Can be applied to wood, glass, papier mache and more.
Let the glue dry completely, until it becomes transparent.
Gently smooth the Decor Foil onto project with a soft, dry brush or with your fingers.
Remove the foil and repeat if needed.
Seal your project with a water-based varnish such as Pentart Pouring Glaze,

available here

, which emphasizes the effect of the foils.
See the following Pentart video demonstrating the 3D Glue Pen with Pentart Decor Foils and for project ideas.
Protect from frost. 
Read any and all cautionary statements on all art mediums. Follow safety guidelines for proper, safe use. Keep away from children and pets. 
Always thoughtfully packaged.
Thank you for choosing My Victorian Heart.