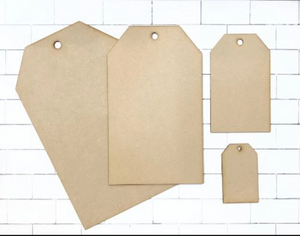 Decoupage Queen Life Beautiful HDF Blank Tags, 0001
High Density Fiberboard Blank Laser Cut Tags in 4 sizes:
Small - 3" x 5" (Package of 3)
Medium - 5" x 8" (Package of 2)
Large - 9" x 13" (Single)
X Large - 10" x 16" (Single)
Decoupage Queen's Life Beautiful HDF Tags are wonderful, quality-made blank tags perfect for your decoupage projects and all types of mediums. Choose your preferred size from the options menu. 
About HDF (High Density Fiberboard) - HDF is made of wood composite/fibers material which is mixed with resin and compressed at high pressure with heat rendering a very hard, durable product. HDF is used in crafts, cabinetry, furniture, laminated flooring and molding. HDF is somewhat moisture resistant (NOT waterproof) due to the density of the pressed fibers, so it is less prone to warping like natural wood. Durable HDF provides a good surface for applying decoupage glues, craft glues, pastes and other wet mediums. 
Thank you for choosing My Victorian Heart for your creative joy.