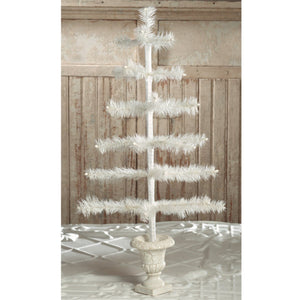 Feather Tree Ivory in Urn Base by Bethany Lowe Designs 
Beautiful creamy white or ivory color 

These tabletop trees are so pretty decorated with vintage style beaded tinsel garland and ornaments. Bethany Lowe's Feather Trees celebrate the vintage holiday style we love so much. These trees are gorgeous once strung with your beautiful decorations.  Artisan and hand crafted. A treasure for holidays throughout the year.
Colors: Ivory (a creamy off white). Tree branches fold up compact for storage.
Materials: Hand-dyed and hand-wrapped goose feather trees inspired by the german feather trees created as early as 1845. Resin urn base. 

Measures:  26" x 13" x 13"
Always thoughtfully packaged
Photo by: Bethany Lowe Designs© 
My Victorian Heart is an authorized retailer of Bethany Lowe Designs.
Thank you for choosing My Victorian Heart